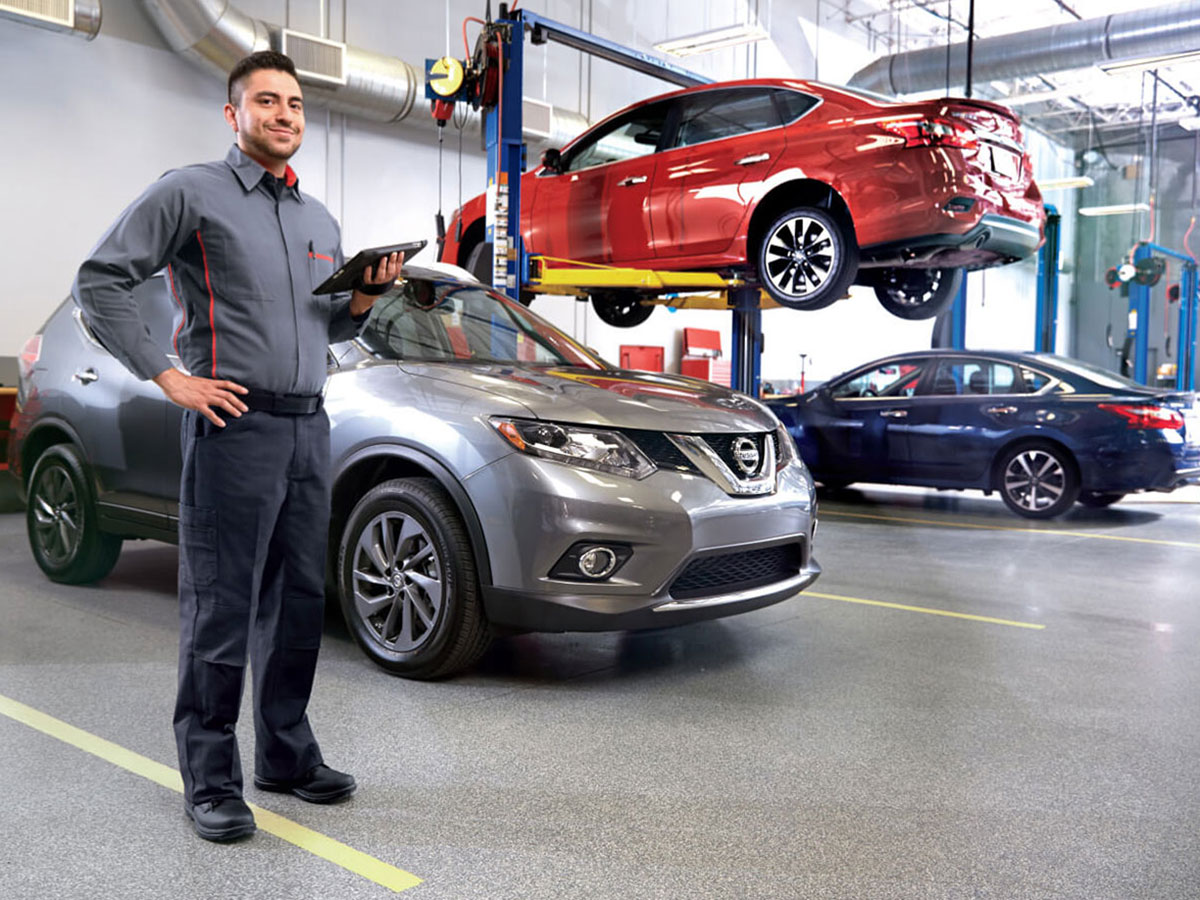 Nissan Recommended Services at 30,000 Miles
Every 30,000 miles, your Nissan should undergo routine maintenance. Germain Nissan of Columbus serves Columbus, Gahanna, and New Albany OH. Bring your car in today so our factory-trained and certified mechanics can look at your vehicle.
Our factory-trained technicians will look at your oil and filters and be sure that both are fresh. Help keep your car in excellent condition with our oil change and filters. We use factory-certified parts so you can be sure you're getting the best quality. Having the right oil in your car is important for being sure that the parts are working as they should. It is one of the first steps in the 30,000-mile check up.
Another service we provide is rotating the tires. This helps the tires and tread wear evenly. Rotating tires can help the tires last longer, and save you money over the long run. We can also balance the tires when we rotate them so that your car's tire system is running as it should. If you need new tires, we will be able to replace them and help connect you with the best tires for your car.
Over time, the engine filter in your car collects dirt and debris. It needs to be replaced so the air flowing through your car is clean. It helps ensure the car's cylinders run at optimal performance and protect the car. Our mechanics will remove and replace your engine filters so the air in your car is efficient.

The cabin filter helps keep the air flowing in your cabin clean. It works with your car's HVAC system to keep the air you and your passengers are breathing free of pollutants.
Inspect Brake Lines and Cables
Brake lines and cables are important parts of the car to make sure that the car runs efficiently and is safe on the road. Our skilled mechanics will look at the brake lines and cables and make sure that they are working correctly. We can also make recommendations for replacement or repair if it needs it.
Inspect Pads, Rotors, Drums, and Linings
We will look at the other interior parts of your car and engine to see if they need any maintenance. Be safe when you're on the road by bringing it in today for repair.
Schedule Service Today at Germain Nissan of Columbia
When your Nissan returns 30,000 miles, schedule service today at Germain Nissan of Columbus. Our certified service technicians and knowledgeable service advisors will know exactly how to help your situation. They will be able to get you back on the road, like new, in no time!
Complimentary Dealership Amenities
Only use OEM Nissan Parts
Factory Trained Technicians
Flexible shuttle and alternate transportation available
Family owned and operated - headquartered in Columbus, OH for over 65 years
The comfortable waiting area with coffee, snacks, TV, and WiFi
Service Hours
Monday

7:00AM - 6:00PM

Tuesday

7:00AM - 6:00PM

Wednesday

7:00AM - 6:00PM

Thursday

7:00AM - 6:00PM

Friday

7:00AM - 6:00PM

Saturday

8:00AM - 4:00PM

Sunday

Closed